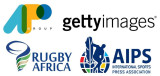 Multimedia content

Videos

(1)

BBC World News used that photo in their TV news output

Images

(2)

Davis Chenge, captain of the Kenya rugby team, scoring a try during the Kenya-Tunisia game in Nairobi on August 11th
BBC World News used that photo in their TV news output
Source: APO Group |
Kenyan sports reporter Eric Njiru wins Rugby Africa Gold Cup Photo Award
The Rugby Africa Gold Cup Photo Award recognizes sports photography excellence and rewards photographers documenting the defining moments of Africa's premier rugby competition
The tournament is fast becoming one of the biggest sports events in Africa
LAUSANNE, Switzerland, September 14, 2018/APO Group/ --
While Namibia are celebrating their triumph at the 2018 Rugby Africa Gold Cup, securing their spot at Rugby World Cup 2019, another big winner has been rewarded for his outstanding talent. Kenyan sports reporter and photographer, Eric Njiru (https://Twitter.com/erik_njiru), was today presented with the "Rugby Africa Gold Cup Photo Award" for his stunning picture of Davis Chenge (https://bit.ly/2xaXUot), captain of the Kenya rugby team, scoring a try during the Kenya-Tunisia game in Nairobi on August 11th.
Download the photo: https://bit.ly/2p3Zx2N
The Award jury, composed of Lee Martin, Senior Vice-President of Global Strategic Development at Getty Images (http://www.GettyImages.com); Abdelaziz Bougja, Chairman of World Rugby's African association, Rugby Africa (http://www.RugbyAfrique.com); Gianni Merlo, President of the International Sports Press Association (AIPS) (http://www.AIPSmedia.com); and Nicolas Pompigne-Mognard, Founder and CEO of APO Group (http://www.apo-opa.com), selected the image after reviewing 90 shortlisted photos taken throughout the Rugby Africa Gold Cup, which has been a thrilling tournament for all local and global rugby fans.
The Rugby Africa Gold Cup Photo Award recognizes sports photography excellence and rewards photographers documenting the defining moments of Africa's premier rugby competition. On the 11th of August, the Kenya Simbas, as they are known in the rugby world, defeated the Tunisia national team 67-0, scoring 11 tries and six conversions - a crushing victory captured perfectly thanks to the work of Eric Njiru.
Sports journalist and rugby expert Njiru has been covering matches across the continent for years for local, regional and national press. Such is his passion for the sport, he has created a digital platform - RagaHouse.com - dedicated to East African rugby, covering Kenya 7s, Kenya Simbas and many other competitions featuring African nations and clubs.
Since publication, Njiru's image of Davis Chenge has been downloaded over 500 times by Getty Images clients and subscribers all over the world – including more than 100 from China, illustrating the growing international reach of the African game.
The Senior Vice-President, Global Strategic Development, of Getty Images, Lee Martin, said: "This powerful image by Eric Njiru of Chenge scoring his try demonstrates remarkable talent and sums up the excitement of the game. Our extensive distribution platform at Getty Images reaches both local and global customers, meaning stand-out moments such as this can be easily shared with fans around the world."
Congratulating the winner, APO Group Founder and CEO Nicolas Pompigne-Mognard said: "What Eric succeeded in capturing is exceptional. The game was reaching its climax when Davis Chenge scored that try, and I believe this picture will remain in many fans' memories for a long time. BBC World News, for instance, used that photo in their TV news output, which shows how powerful it is. Sports images are an essential component to media coverage of African rugby competitions. In an era where visual content is taking over from text content, it is an incredible medium to spark the interest of both the media and audiences around the world."
The President of World Rugby's African association, Rugby Africa, Abdelaziz Bougja, said: "To me this photo encapsulates everything that's great about the Rugby Africa Gold Cup: fantastic athletes, phenomenal energy, world class skills and an amazing vibe. The tournament is fast becoming one of the biggest sports events in Africa. It is unique because of the number of matches and the fact that it involves six different countries reaching out to more fans than ever before. The 2018 edition of the Rugby Africa Gold Cup was extra special as it doubled up as a Rugby World Cup Qualifier. In this picture we see the Kenyan captain diving beyond the try line. His team ranked second in the competition and will play the international repechage tournament in Marseille in November. Africa will support them all the way and hope to see them join South Africa and Namibia at the Rugby World Cup in Japan next year."
The President of the International Sports Press Association (AIPS), Gianni Merlo, said: "This photo and the entire initiative by APO Group is yet another demonstration of how sports photography in Africa is growing. It is a new boost for people to keep working and to always be more professional. The impressive shot by Eric Njiru shows that professionalism in photography is moving in the right direction, and also that rugby in Africa is in the spotlight. AIPS welcomes all competitions of this sort to encourage our colleagues to improve further."
All the images of the 2018 Africa Gold Cup are available on Getty Images: https://goo.gl/mmcD1y.
Distributed by APO Group on behalf of APO Group.
Media contact and sponsorship opportunities: rugby@apo-opa.org
About Getty Images:
Getty Images is one of the most trusted and esteemed sources of visual content in the world, with over 300 million assets including photos (http://www.GettyImages.com), videos (http://www.GettyImages.com/footage), and music (http://www.GettyImages.com/music), available through its industry-leading sites www.GettyImages.com and www.iStock.com. The Getty Images website serves creative, business and media customers in nearly every country in the world and is the first place people turn to discover, purchase and share powerful visual content from the world's best photographers and videographers. Getty Images works with over 250,000 contributors and hundreds of image partners to provide comprehensive coverage of more than 160,000 news (http://www.gettyimages.com/editorialimages/news), sport (http://www.gettyimages.com/editorialimages/sport) and entertainment events (http://www.gettyimages.com/editorialimages/entertainment) each year, impactful creative imagery (http://www.gettyimages.com/creative-images) to communicate any commercial concept and the world's deepest digital archive of historic photography (http://www.gettyimages.com/editorialimages/archival).
Visit Getty Images at www.GettyImages.com to learn more about how the company is advancing the unique role of still and moving imagery in communication and business, enabling creative ideas to come to life. For company news and announcements, visit our Press Room (http://press.gettyimages.com), and for the stories and inspiration behind our content, visit Stories & Trends (http://stories.gettyimages.com). Find Getty Images on Facebook (http://www.facebook.com/gettyimages), Twitter (https://twitter.com/GettyImages), Instagram (https://www.instagram.com/gettyimages), LinkedIn (https://www.linkedin.com/company/getty-images), Pinterest (https://www.pinterest.com/gettyimages) and Tumblr (http://gettyimages.tumblr.com), or download the Getty Images app (http://www.gettyimages.com/resources/ipad) where you can explore, save and share the world's best imagery.
About APO Group
Founded in 2007, APO Group (www.apo-opa.org) is the leading media relations consultancy and press release distribution service in Africa and the Middle East. We assist private and public organizations in sharpening their reputation and increasing their brand equity in target countries. As trusted partner, our role is to leverage the power of media and build bespoke strategies that enable organizations to produce a real and measurable impact in Africa and the Middle East and outside the regional frontiers. The trust and recognition that have been granted to APO Group by global and multinational companies, governments and NGOs inspires us to continuously enhance our value proposition within Africa & Middle East to better cater to our clients' needs. Among our prestigious clients: Facebook, Dangote Group, GE, Uber, Microsoft, Nokia, Mara Group, PwC, DHL, Marriott Group, Sage, Ecobank, Iflix, Jumia, Samsung, Total, Merck, Société Générale, L'Oréal, Oracle, Philips, Barclays, MoneyGram, Ernst & Young, Orange ...
Headquarters: Lausanne, Switzerland | Offices in Senegal, Dubai and Hong Kong
About Rugby Africa
Created in 1986, Rugby Africa (http://www.RugbyAfrique.com) - previously the African Confederation of Rugby (Confédération Africaine de Rugby - CAR) - is one of the six regional associations making up World Rugby (http://www.WorldRugby.org), the international organisation responsible for the governing of rugby union and rugby sevens. Rugby Africa unites all of the African countries which play rugby union, rugby sevens and women's rugby. Rugby Africa organises the Rugby Africa Gold Cup, the qualifying competition for the Rugby World Cup 2019, and Africa 7, a qualifying competition for the Olympic Games 2020. Rugby Africa has 38 members, including 22 members and associate members of World Rugby, 10 members and associate members of Rugby Africa and 16 new countries collaborating with Rugby Africa.
About AIPS
Established in Paris in 1924, the Association Internationale de la Presse Sportive / International Sports Press Association (AIPS) (http://www.AIPSmedia.com) is the premier body representing the international sports media with 156 national member associations, nearly 10,000 individual members, and very close ties to major international sports federations including the ICO, FIFA, IAAF, FINA, FIBA, FIVB and UEFA. Sports journalists up to the age of 28 and university students majoring in sports journalism are eligible to join AIPS Young Reporters.
AIPS Africa provides a support system to sportswriters, but the association also funds Young Reporters Programs (https://bit.ly/2xiRv9Q) in international events. They offer training and capacity building workshops for all categories of sports journalists, mentoring programs, exchange forums for discussion of topical issues, resources sharing and assistance on accreditation.